---
Custom Lollipops Bulk 15 pounds case. Approximately 900 lollipops per case.



Lollipops and Stickers come FULLY ASSEMBLED.

You'll receive your personalized stickers and the lollipops assembled and ready to hand out.
Lollipop Color and Flavor:
Assorted Fruit Flavors and colors include: Orange-Orange, Blue-Raspberry, Purple-Grape, Green-Apple, Pink-Strawberry, Yellow-Lemon, Brown-Root Beer
White Lollipops - Vanilla

Other Single Colors / Flavors Available (allow 3 weeks from order date to arrival):
Pink - Strawberry
Blue - Raspberry
Green - Apple
Red - Cherry
Orange - Orange
Yellow - Lemon
Purple - Grape
Brown - Root Beer

Lollipop Information:

* Lollipops are individually plastic wrapped
* Your information on a 1 inch sticker
* Lollipops and Stickers are fully assembled
* Approx. Dimensions: 3.5" Long x 1" Diameter
* Item Contains: Approx. 60 pcs/lb.
Product of the USA
Certified Kosher Pareve under the strict supervision Parve by OK laboratories.
View the Kosher Certificate
Certified Kosher under the strict supervision of Rabbi Asher Eckstein.
Certified Parve - Dairy Free

Buying in bulk is a great deal for a doctor's office, bank, or anywhere that needs lots of lollipops.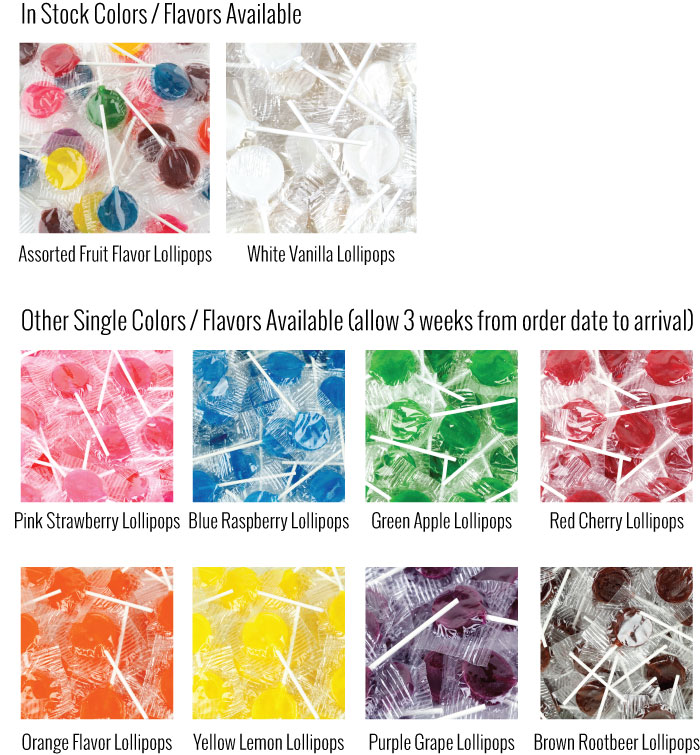 Bulk 15 lb. Carton
About 900 Pops
Great for Parades and Parties
FREE shipping
Certified Parve - Dairy Free
Certified Kosher Pareve under the strict supervision Parve by OK laboratories
Certified Kosher under the strict supervision of Rabbi Asher Eckstein.
Made in USA
---
---
We Also Recommend